La tarjeta de navidad del Departamento de Educación Especial y Pedagogía Social de la Universidad de Erfurt fue diseñada por Jaiko (4 años)
The Christmas card of the Department of Special Education and Social Pedagogy of the University Erfurt was designed by Jaiko (4 yrs. old)
plantilla de eiquetas de regalo/gift tag/Geschenkanhänger
Geschenkanhänger Cerleco.pdf
Adobe Acrobat Dokument
565.9 KB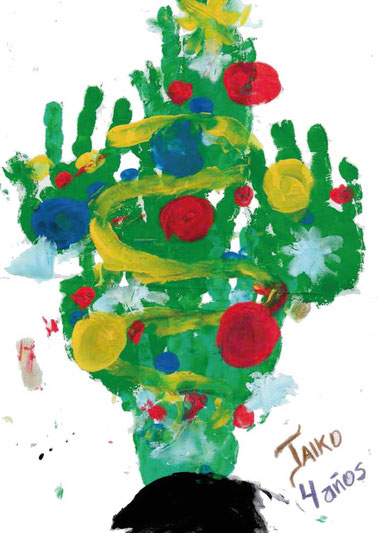 Para tarjeta de navidad el departamento de educación especial y social de la Universidad de Erfurt, fue seleccionado este año el hermoso árbol de navidad dibujado por Jaiko de 4 años! 1000 tarjetas han sido impresas, repartidas o ya están en camino hacia el mundo como saludo navideño.
El dibujo de Jaiko y otros dos motivos de Adriana y Luis también fueron diseñados como un plantilla de eiquetas de regalo (vea download). Impresos en pape más grueso y recortados, son una linda idea para agazajar a amigos, familiares y conocidos. Esperamos  que Cerleco también esté presente en cálidas conversaciones bajo el árbl de navidad y quizá posiblemente encuentre nuevos auspiciantes... 
¡Les deseamos una muy feliz navidad!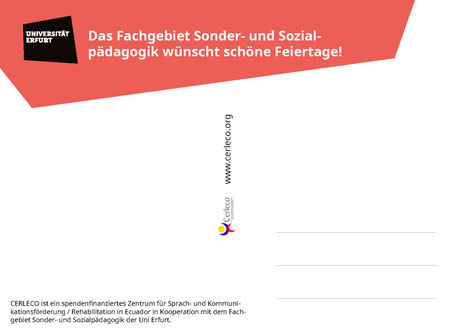 The 4-year-old Jaiko's beautiful Christmas tree was chosen as the Christmas card for the special and social pedagogy department at the University of Erfurt this year! 1000 cards were printed, laid out, or are already on their way worldwide as Christmas greetings.
Jaiko's picture and two other motifs by Adriana and Luis were also designed as handicraft templates for gift tags (see download). A nice idea for friends, family and acquaintances when printed out on thick paper. We hope that CERLECO will also provide something to talk about under the Christmas tree and perhaps find new sponsors...
We wish you a merry Christmas!