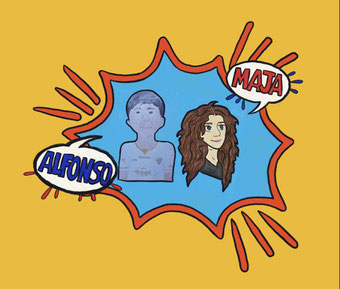 Nuevas historias en el proyecto "Imágenes que hablan"
Una cocreación de historias en forma de cómic.
El nuevo proyecto "imágenes que hablan" parte de una estudiante de maestría en educación especial de la Universidad de Erfurt y un joven con trastornos del habla y la comunicación de San Pedro. Juntos crean cómics ilustrados. Permiten una expresión pictórica creativa, no verbal e imaginativa de diferentes situaciones vitales, necesidades, puntos de vista, sueños y preferencias. Los cómics creados conjuntamente y su combinación de imagen y escritura, desarrollan un lenguaje visual propio en lugares donde la palabra hablada o escrita no es suficiente.
New stories in the project "Talking Pictures"
A co-creation of stories in the form of comics.
The new project "Talking Pictures" starts with a MA student of special education at the University of Erfurt and a young man with speech and communication disorders from San Pedro. Together they create illustrated comics. These enable a creative, non-verbal and imaginative pictorial expression of different life situations, needs, views, dreams and preferences. The jointly created comics and their combination of image and writing develop their very own visual language in places where the spoken or written word is not enough.