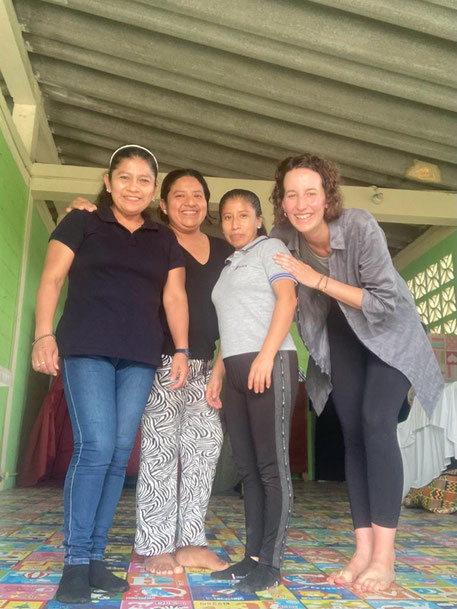 Prácticas escolares a través del DAAD
En el marco del Servicio Alemán de Intercambio Académico (DAAD), Helene Leichsenring ha recibido una beca para realizar unas prácticas escolares en Ecuador. Ya lleva dos semanas en la "Escuela de educación básica Doctor Antonio Moya Sánchez" de Olón. La escuela está a media hora de San Pedro, por lo que también puede apoyar a Cerleco y a las terapeutas en su trabajo, así como terminar de forma creativa el proyecto "Cuéntame tus historia". "Ya estoy muy contenta de haber hecho este viaje. Admiro el trabajo de los profesores de la escuela con clases de 30-40 niños, así como el trabajo de las terapeutas de Cerleco. La terapia aquí es tan individual y variada, que es muy agradable de ver y una experiencia muy especial para mí. Gracias por estas perspectivas".
School internship through the DAAD
Within the German Academic Exchange Service (DAAD) Helene Leichsenring has received a scholarship for a school internship in Ecuador. Since 2 weeks she is at the 'Escuela de educacion básica Doctor Antonio Moya Sánchez' in Olón. The school is half an hour away from San Pedro, so she can also support Cerleco and the therapists in their work. Moreover, she is able to creatively finish the project 'Tell me your story'. "I am already very happy to have made this trip. I admire the work of the teachers in the school with class sizes of 30-40 children as well as the work of the therapists in Cerleco. Therapy takes place here in such an individual and diverse way, which is so nice to see and a very special experience for me. Thank you for the insights!"